Resources
Newsletter
The veterinarians and staff at the White Oak Animal Hospital are pleased to provide you with an online newsletter. This fun and fact-filled newsletter is updated on a regular basis.
White Oak Animal Hospital Newsletter
The veterinarians and staff at the White Oak Animal Hospital are pleased to provide you with an online newsletter. This fun and fact-filled newsletter is updated on a regular basis.
Included are articles pertaining to pet care as well as news on the latest trends and discoveries in veterinary medicine.
Please enjoy!
Current Newsletter Topics
Clipping Your Pet's Nails
Pet owners vary in their level of comfort in clipping the nails of their dog, cat, rabbit or bird. But it is necessary to regularly clip nails to help maintain health and comfort. Nails which are uncared for can break or tear, and can affect the animal's ability to move about comfortably or cause the animal to injure itself when scratching. If you are uncomfortable clipping the animal's nails yourself, your vet or groomer can do this for you.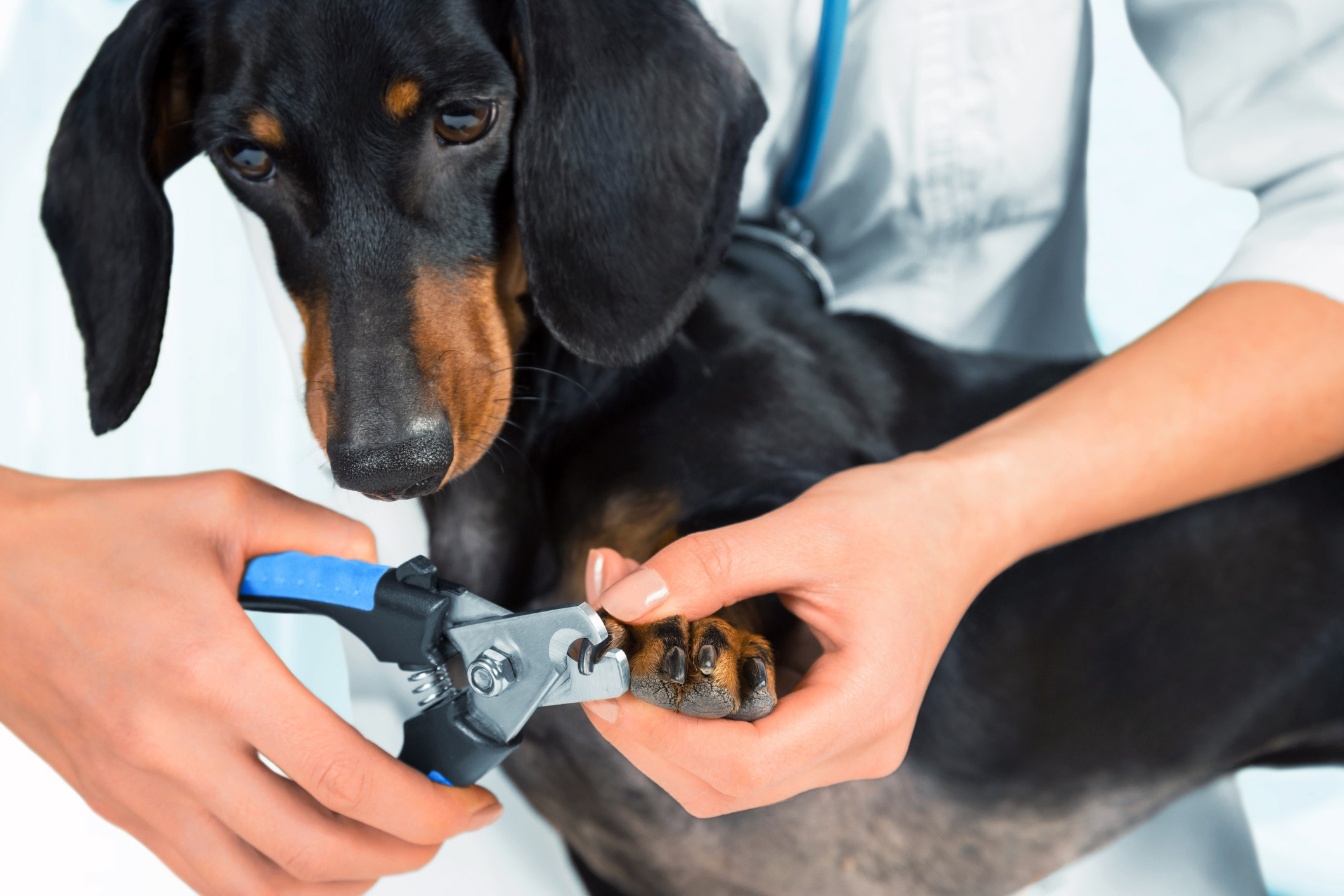 If you decide to do it yourself, here are a few tips:
• Remember, the nail is living tissue. Do not clip too close to the quick. If this occurs, the animal will experience pain and the nail will bleed.
• There are two types of nail clippers available: the scissor type (which resembles a traditional scissors) or the guillotine type (which surrounds the whole nail). Both are effective. Choose the one that is most comfortable for you and your pet.
• Many animals resist nail clipping. One way to get them accustomed to it is to handle their paws or feet from a very early age.
• Maintain your pet's nail clippers so that they're sharp. A dull blade and crush and fracture the nail, which is painful for your pet.
How to Measure Your Pet's Quality of Life
Veterinarians take many things into consideration before recommending humane euthanasia for a sick, injured or elderly pet. When it comes to setting your own mind at ease, there are ways to rate or measure your pet's overall well-being.
The Veterinary Medical Center at Ohio State University published a survey designed to illustrate your pet's quality of life which was adapted from several other common methods. The survey asks you, the pet owner, to rate 25 different prompts on a scale from one to five. A score of one indicates strong agreement or a condition that is present all the time or is severe; a score of five indicates strong disagreement or a condition that is never present and nonexistent. Thus, higher scores indicate a better quality of life.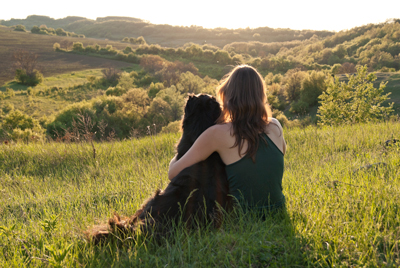 The Survey
Scale
1: Strongly Agree / All the Time / Severe
2: Agree / Most of the Time / Significant
3: Neutral / Sometimes / Mild
4: Disagree / Occasionally / Slight
5: Strongly Disagree / Never / None
My pet...
1. Does not want to play
2. Does not respond to my presence or doesn't interact with me in the same way as before
3. Does not enjoy the same activities as before
4. Is hiding
5. Demeanor/behavior is not the same as it was prior to diagnosis/illness
6. Does not seem to enjoy life
7. Has more bad days than good days
8. Is sleeping more than usual
9. Seems dull and depressed
10. Seems to be or is experiencing pain
11. Is panting (even while resting)
12. Is trembling or shaking
13. Is vomiting and/or seems nauseous
14. Is not eating well (may only be eating treats or if fed by hand)
15. Is not drinking well
16. Is losing weight
17. Is having diarrhea often
18. Is not urinating well
19. Is not moving normally
20. Is not as active as normal
21. Does not move around as needed
22. Needs my help to move around normally
23. Is unable to keep self clean after soiling
24. Has coat that is greasy, matted or rough-looking
25. How is my pet's overall health compared to the initial diagnosis/illness?
Once you have rated each prompt, tally up the number of responses for each number and then place an 'X' on a "Quality of Life line" labeled "Good" at one end and "Poor" at the other according to your most frequent response.
The purpose of this exercise is to help you better visualize your pet's general well-being. Of course, not all pets are the same and what is rated poorly for one may not be so bad for another. For pets currently undergoing treatment, some poor ratings may be liked to symptoms and side effects which will subside. It is always important to discuss your concerns and your pet's overall demeanor with your veterinarian, especially when considering humane euthanasia.
Advantages Of Spays and Neuters
Spaying or neutering pets is a common procedure, and most pet owners have probably had some experience with having the procedure done on animals they have owned.
Aside from the inconvenience of heat cycles and/or roaming tom cats, there are medical benefits associated to having your pet spayed or neutered. The direct health benefits of spaying or neutering are significant for the pet. If female pets are spayed before their first heat cycle, the risk of developing mammary tumors (breast cancer) is significantly reduced. Spaying female pets eliminates the risk of pyometra, an infection of the uterus. This disease can be very serious, even fatal, in female pets. Male pets can also benefit. Neutering eliminates the risk of testicular cancer and reduces the risk of prostate disease.
Spaying or neutering can indirectly help prolong a pet's life as well. When pets are spayed or neutered, their tendencies to roam or fight are greatly reduced. This prevents the pets from getting lost, stolen, hit by cars, or contracting a contagious disease.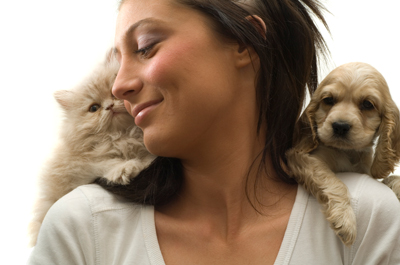 Cats that fight are at risk of contracting a serious disease called feline leukemia. This disease, which affects the immune system of the cat, can be passed from feline to feline through saliva or blood. Cats also run the risk of contracting feline immune deficiency virus when they fight. This disease is very similar to human HIV. It can lie dormant in the cat for quite a while, and when activated, can cause the cat's immune system to function improperly.
Spaying or neutering dogs can help keep them under control. Dogs that have not been spayed or neutered are more likely to wander away from home. While running loose, they have a chance of being hit by a car, getting lost, stolen or taken to the animal shelter.
Even though spays and neuters are considered routine surgery, there is nothing routine about any abdominal surgery performed under general anesthesia. Most veterinarians consider spays and neuters to be major surgery, especially when spaying older animals that have had several heat cycles or have had litters.
Veterinarians and humane societies advise pet owners to have their pets spayed or neutered. The medical advantages have been proven. Complications resulting from these procedures are rare and pets recover from surgery very quickly. Often the day after surgery, animals are bright and alert, sometimes seeming as if nothing had ever happened.
The cost of the procedure varies depending upon the species, sex, size and age of the pet.
Rabies - A Deadly Disease
Rabies is a fatal disease of the nervous system. It is caused by a virus that can infect all warm-blooded animals, including humans. The virus attacks the brain and spinal cord, causing severe nervous system dysfunction and eventually death. While instances of rabies infection are lower than ever, the disease remains a continuing problem. Vaccinating your pet against rabies is a key prevention method.
The most common way to contract rabies is through a bite from an infected animal. When a rabid animal bites, the rabies virus in its saliva passes through the broken skin of the victim. Rabid cats can also transmit rabies through their scratches if they have saliva on their paws.
Skunks, bats, coyotes, foxes and raccoons are very susceptible to rabies. Cats, dogs, cattle and horses usually contract rabies through encounters with rabid wildlife.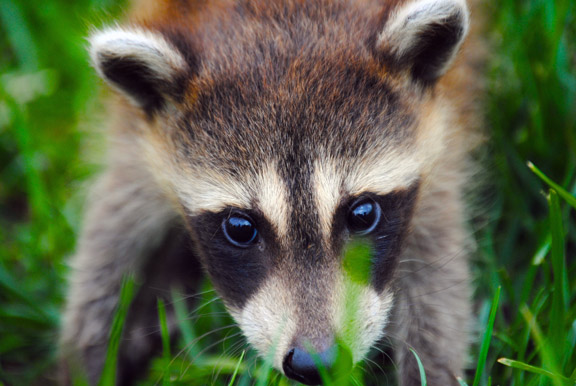 Raccoons are very susceptible to rabies.
The symptoms of rabies can be quite varied. In general, the disease shows three stages that occur in succession. (NOTE: not every animal will display these signs, so any animal behaving abnormally should be regarded with suspicion.)
Stage 1 - Attitude Change: The animal may show nervousness, shyness, aggression or other changes in its normal personality. May show a lack of fear of humans.
Stage 2 - Furious or Excitable Phase: Animals may become extremely agitated or behave erratically. Animals may bite and snap at anything. Wild animals may wander into unaccustomed areas and attack livestock, people or pets. The tone of an animal's voice may change as its vocal cords become paralyzed. Seizures may occur.
Stage 3 - Paralysis: Victims become progressively paralyzed. Animals may be unable to move their hind limbs and unable to swallow, resulting in choking and frothing at the mouth. This phase ends in death, usually from paralysis of the respiratory muscles.
Rabies cannot be diagnosed with certainty based on symptoms alone. The suspicion of rabies can only be confirmed by testing samples of an animal's brain tissue.
Vaccination is an inexpensive, effective means of protecting your animals from rabies. All pets should be vaccinated regularly against rabies.
You can minimize the risk of rabies by avoiding close contact with wildlife. Remember, rabid animals often lose their fear of humans and may appear unusually friendly. Ensure that your house is unattractive to wild animals by keeping garbage bins securely fastened and sheds and garages closed. If your domestic animals are bitten or scratched by a wild animal, consult your veterinarian immediately.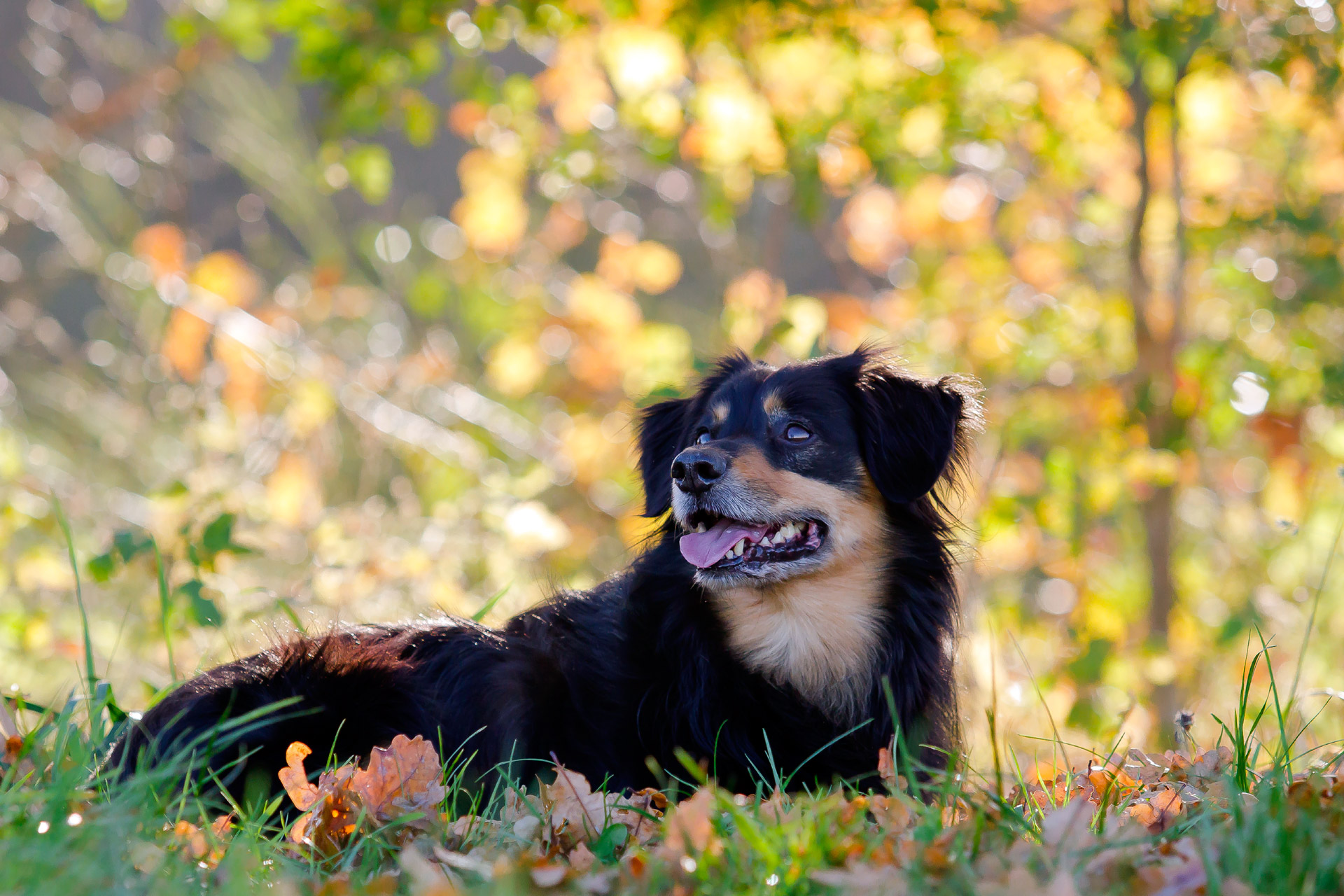 Vaccination is key to preventing rabies in your pet.
If you think you've been exposed to rabies, prompt medical attention is essential. If you've been bitten by any animal, clean and disinfect the wound thoroughly, then contact your physician or local health authority immediately. If the biting animal can be confined without further danger, it should be kept in a secure area while waiting for public health authorities to arrive. Depending upon the circumstances, the health authorities may choose to quarantine the animal for monitoring or euthanize it for testing. The animal's vaccination status influences this decision.
Remember - rabies is a fatal disease in humans. Every biting incident should be investigated, even if the animal in question appears healthy.
If rabies exposure cannot be ruled out, people who are bitten are usually treated with a series of injections. There is no treatment for animals that have been exposed to rabies. In both humans and animals, the disease is almost always fatal once symptoms of nervous system dysfunction appear. For more information about rabies, contact your local veterinarian or public health official.
Prevention is the key to combating rabies. Make sure pets and high-risk livestock are vaccinated properly. Ask your veterinarians about the best vaccination protocol for your pets or livestock. Keep away from wild animals, no matter how friendly they appear. Keep wild animals away from your home by securely fastening garbage bins and closing garages and sheds.
Blood Testing: What It All Means
Many technologies that help humans live longer, healthier lives are available to your pet. By performing some basic blood tests, your veterinarian can gather information concerning the health and well being of your pet.
Complete Blood Count
This blood test actually consists of several tests that evaluate the number and type of blood cells in the circulation. Cells that are evaluated consist of white blood cells (WBC), red blood cells (RBC) and platelets. White blood cells are important in helping the body fight infection. Red blood cells are fundamental for carrying oxygen to the body's tissues. The measurement of these cells can indicate anemia, infection, leukemia, stress and inflammation. Platelets are involved in the blood clotting process and if low in number can indicate a bleeding disorder. The hematocrit (HCT) provides information pertaining to the relative number of red blood cells (RBC) in circulation. This test is used to diagnose anemia and dehydration.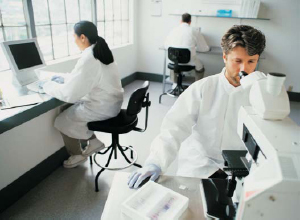 Blood Chemistry
These tests survey many of the organ systems of the body in order to make sure they are working properly.
• Albumin (ALB) - Low levels indicates chronic liver or kidney disease, intestinal disease or intestinal parasites (hookworm).
• Alanine Aminotransferase (ALT) - Elevated with liver disease or injury.
• Alkaline Phosphatase (ALKP) - Elevated levels can indicate liver disease or Cushing's disease.
• Amylase (AMYL) - Elevated blood levels can indicate pancreatic and/or kidney disease.
• Blood Urea Nitrogen (BUN) - Reflects kidney and liver disease as well as dehydration.
• Cholesterol (CHOL) - Elevated levels are seen in many disorders. Some include liver and kidney disease and hypothroidism.
• Creatinine (CREA) - Elevated levels can be due to kidney disease or urinary tract obstruction.
• Blood Glucose (GLU) - High levels can indicate diabetes. Low levels can indicate liver disease, infection or certain tumors.
• Total Bilirubin (TBIL) - Levels of Bilirubin are useful in diagnosing anemia and bile duct problems.
• Total Protein (TP) - This can detect many conditions. Some include liver, kidney and gasrointestinal diseases as well as dehydration.
Blood Electrolytes
• Calcium (Ca) - Increased levels are seen with certain tumors and kidney and parathyroiud gland disease.
• Phosphorus (PHOS) - Elevated levels can indicate kidney disease.
• Sodium, Potassium, Chloride - All should be within normal levels. Vomiting, dehydration and diarrhea can affect their levels.